LinkedIn experts and [In]thusiasts gathered in New York City last Friday. Some previously met each other in person, but for others, it was the first time meeting.
Where did they all come from? New York, New Jersey, Pennsylvania, Connecticut, Michigan, Atlanta, North Carolina, and Toronto.
Our morning started at the Starbucks Reserve in the Empire State Building and then led to a unique tour of LinkedIn with lunch in the LinkedIn cafeteria and a return to the Starbucks Reserve.
Since I have never worked for a technology company before, I enjoyed the tour to see the different types of workspaces available to meet the workstyle tastes of a diverse staff. 
There were open, quiet, and compact phone booth spaces, a library, small tables, big tables, workspaces with a view, and many coffee bars and snack areas. For me, this tour was a once-in-a-lifetime experience.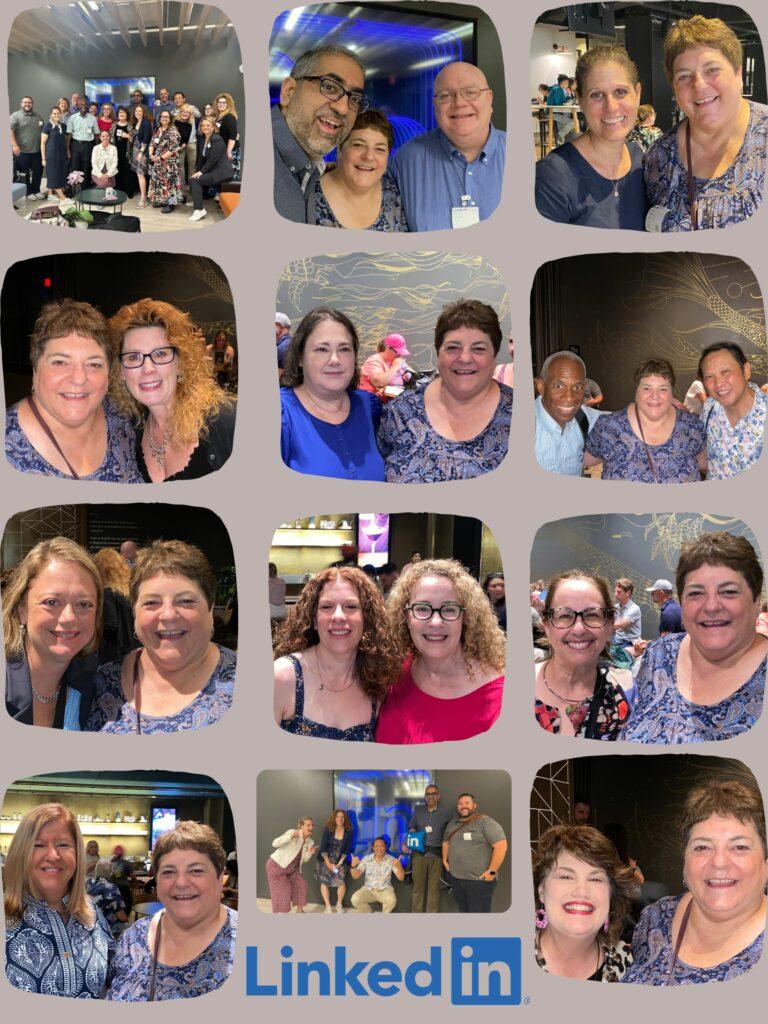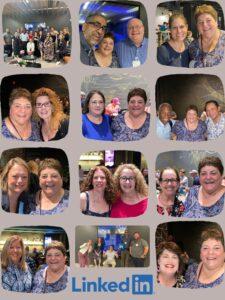 Some common types of workspaces available at tech companies include:
Open-Plan Office: This is a layout where employees work in a large, open space without cubicles or walls, promoting collaboration and easy communication among team members.
Cubicles: Cubicles are partially enclosed workspaces that provide some privacy while allowing accessible communication with nearby colleagues.
Private Offices: Some tech companies offer private offices for higher-level employees or those who require a quieter and more focused working environment.
Hot Desking: In a hot-desking setup, employees do not have assigned desks; instead, they choose from available desks daily. This approach promotes flexibility and efficient use of office space.
Shared Workspaces: Tech companies may provide shared workspaces or coworking spaces, allowing employees to work in a more relaxed and creative environment with individuals from various companies or departments.
Work-From-Home (WFH): Many tech companies have embraced remote work or flexible work-from-home policies, allowing employees to work from their homes or other remote locations.
Hybrid Workspaces: A hybrid workspace model combines office-based and remote work. Employees can split their time between the office and remote locations.
Collaboration Areas: Tech companies often create collaborative spaces within their offices, such as lounge areas, brainstorming rooms, and informal meeting spaces, to foster creativity and teamwork.
Quiet Zones: Some companies have designated quiet areas where employees can work without disruptions or distractions when they need to focus on tasks that require concentration.
Standing Desks and Ergonomic Furniture: Many tech companies provide standing desks and ergonomic chairs or furniture options to promote employee well-being.
Recreation and Relaxation Areas: Tech companies may include recreational spaces, such as game rooms, relaxation lounges, or meditation rooms, to help employees unwind and recharge.
The availability of these types of workspaces may vary depending on the specific company's culture, size, and policies. There might be new trends and advancements in workspace design and remote work policies in the tech industry, but the ones listed above are the most common.
After working in a home office during the pandemic, I moved to a 250 SF solo office a year ago and love my personal space to think and do my work, even though I spend much time on Zoom. It was fantastic to have the flexibility to leave the office and take time off to meet people in real life (IRL).
It was great to meet these individuals in person for the first time: Judi Hayes, Rachel Simon, Lisa Rangel, Nancy Aronson, and Brenda Meller.
It was great to see these individuals again: Beth Granger, Ed Samuel, Bobby Umar, Kenneth Lang, Christine Dykeman, Adam Ligeralde, Danielle Guzman, Stan Robinson, Jr., Brynne Tillman, Janess Messner, Liam Darmody, and Annette Richmond.
Look them up on LinkedIn to see what they each do! Support small businesses! 
NEXT STEPS
AUTHOR BIO
Lynne M. Williams is the Executive Director of the Great Careers Groups, a volunteer-run 501(c)3 nonprofit organization that provides career development and networking connections for 1) job seekers in career transition, including veterans, and 2) employed and self-employed for career management.
Aside from writing keyword-focused content for ATS resumes and LinkedIn profiles, Lynne is currently writing her doctoral dissertation on LinkedIn for Job Seekers. She is a contributing author on "Applying to Positions" in Find Your Fit: A Practical Guide to Landing the Job You Love, along with the late Dick Bolles, the author of What Color is Your Parachute?, and is also a speaker on career topics.
This article is also published on: vista.today,  montco.today,  delco.today,  bucksco.today,  and in the author's LinkedIn newsletter. A list of articles can also be found in a Google doc.