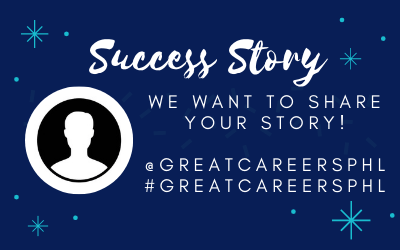 Submit Your Success Story
If you were a meetup, Professional, Nonprofit Career Network, or BENG member of our organization, and landed a job, please respond to the ten prompts at the bottom of the page.
Select Success Stories are listed in alphabetical order by first name
What Others Say About Great Careers Groups& BENG
I attribute much of my interviewing success to the Great Careers group members. Thank you for all your support, advice, and kindness throughout my transition. You are an amazing group of people! Of course, I have learned, we are always in transition and that its people like us who understand how important it is to cultivate relationships and help others. I am blessed to have met everyone in our meetups.
Through the course of my transition from teacher to training and instructional design, I participated in numerous networking groups in the Delaware Valley. These range from "job club" activities to more structured networking activities to professionally designed skills workshops. The consistency and support of others in a similar position, the exposure to industry trends and the opportunity to practice interpersonal communication was a significant factor in my professional growth during this time, especially as an introvert. The skills and the support grew side by side when I practiced them on a consistent basis. Most of all, I made numerous professional contacts and a few good friends.
I've been attending the career success group meetups for a few weeks. If you're unemployed or underemployed, it's a wonderful way to network with others who are in a similar situation as you in a supportive environment. Whether you're shy or outgoing, it helps to be with people who can relate to the challenges and emotional issues of job searching, exchange ideas, mention postings, point out helpful upcoming events and motivate each other. People frequently point out they have connections in companies where others in the meeting may want to apply.
I will be forever grateful to the Great Careers Groupsand how they have helped me focus, stay on target, and grow. This group has been incredibly supportive in getting me to my landing. I am so grateful for the many services provided. Thank you for all you do for those in career transition.
My experiences with the Great Careers Groupsmeetups have been nothing but positive! From the first meeting, I was struck by how welcoming and supportive everyone was. Attendees and volunteers alike are willing to share leads and contacts as well as tips and advice. The meetings are well organized, efficiently run, and packed with helpful information! The speakers are very engaging and present relevant, current material. The 30 second elevator pitches, as part of the purposeful structured networking, are a practical way for people to polish their message and quickly make new connections.
If you want to submit your story, please respond to the ten prompts
Tell us about yourself and your career.
Why were you looking for a job?
How did you discover GCG?
How did GCG help you in your job search?
How did you find your job? How long did it take?
What kept you motivated during the job search, especially during the downtimes?
What were the lessons that you learned during your job search?
Do you have any networking tips or tricks that you can share?
What will you do in your new role?
What is one takeaway or nugget of wisdom that you would like to share?
Email your responses with the subject line of Success Stories and include your LinkedIn URL and that of any other person you may note as part of your journey, because job search has a lot to do with networking and business relationships. Email Lynne Williams at [email protected]. 
We reserve the right to edit for conventions such as grammar, mechanics, spelling, usage, sentence formation, and addition of links or other cross-references to enhance your story as well as publish a quotation from the article on social media, unless notified not to.